Known Issues:
Songs are taking longer than usual to upload, please be patient and allow the upload to finish
No confirmation appears when album artwork is successfully uploaded
Can't upload album artwork from Internet Explorer 9
Album, Label, and Lyrics information are not showing on uploaded songs detail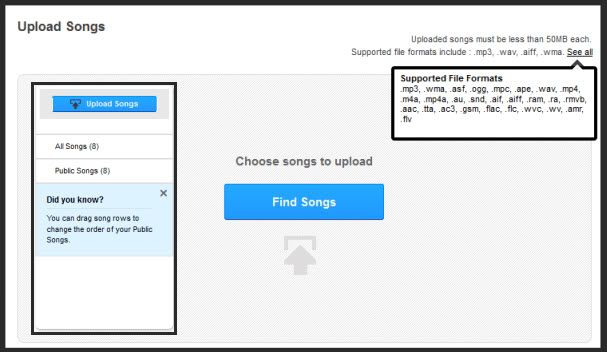 The Song Upload Tool makes it easier for artists to upload and manage their songs. Now you can upload 100 songs, see more details, see your songs in a new grid layout, and move songs in and out of your public playlist without losing play counts. To locate the song upload tool, click on Artist (in the top navigation bar) and click Upload Songs, or visit
this link
while logged into an Artist profile.
To Upload Songs: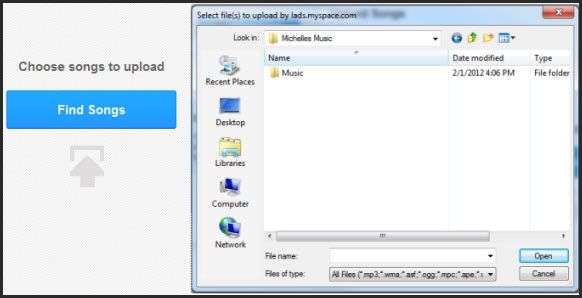 Click on Artist (upper navigation bar) and select Upload Songs under Media
Click on Upload Songs (on the left)
Click on Find Songs and locate the song file you want to upload
Locate the song you wish to upload and click open
To Edit Your Song Details:
Click on Artists (upper nav-bar) and click Upload Songs
Hover over the song you want to edit, and click the pencil icon (on the right side)
Edit the song title, album or label info, release date, whether you want the song to part of your public Songs, add lyrics or even add an image to associate with the song
Click Save and Close to complete your edits
To change the order of your featured songs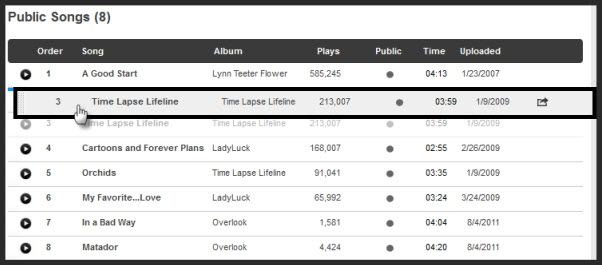 Click on Artists (upper nav-bar) and click Upload Songs
Click Public Songs on the left navigation bar
Click and drag songs to arrange the order you want them to appear in your profile player
To make your songs public/private
Click All Songs on the left navigation bar
Click and drag your uploaded songs you want public to the Public Songs tab on the left navigation bar
You can also change wether a song is public or not by hovering over the song on your All Songs or Public Songs sections and clicking the radio button under public
To delete your uploaded song
Click on Artists (upper nav-bar) and click Upload Songs
Click on the All Songs tab on the left navigation bar
Hover over the song you want to delete
Click the "X" on the right hand side of the song to delete
Click "Yes, delete" to confirm you want the song removed