Social networking sites offer a fascinating way to showcase self expression and communicate around the world. You may see it as a semi-private platform to communicate outside the supervision of adults but risky online behavior can have its ramifications. Sharing personal or inappropriate information can affect future academic and employment opportunities.
---
Online Presence
&nbsp
Think before you post, what you share has the potential to be around forever. Saying something out loud can be forgotten, writing something on paper can be erased, posting something online even for just a second can be saved by anyone who sees it.

&nbsp
We see tons of emails daily from users who regret something they posted online and want it removed. It may seem like something harmless when you post it but think about who may see it in the future. Times have changed, when you apply to school or are looking for a job, potential recruiters or employers will search for you online to get a better idea of who you are. Your online presence is a reflection of who you are.
---
Privacy
&nbsp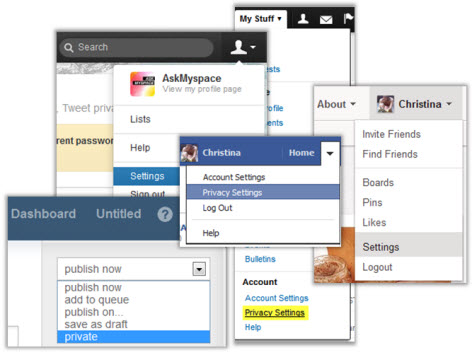 &nbsp
If you created a profile for yourself it's important to always check out your privacy settings. You want to be aware of spam settings, who can see or share your profile and possibly message and comment settings.
Your account is your responsibility; don't just share your log in information with anyone. Giving out your private log in information may result in your account being compromised or hacked. If you use a public computer, make sure you log out; you don't want a random stranger accessing your personal account.
---
Harassment/Cyber Bully
&nbsp
Online Cyber bullying is something that is an unfortunate reality. If you are being harassedby another user, blockthe person from further contact. By blocking the user that person cannot message or see your account. Let someone know, you don't have to deal with this on your own; let an adult know.
---
Safety
&nbsp
Part of your online experience is about engaging with other users that includes your friends and family. However, we know that you might find people from all over the world with similar interests as you. The great part about the internet is you have a platform to communicate with these people about any topic you want, from your favorite bands, television show, clothes, celebrities and so on. Think carefully about what you post online and what you share with those you are not personally familiar with. Remember, the person you are talking to might not be who they say they are, it's easy to hide behind a screen name.

&nbsp
Your safety is important to us; check out some of the links below for helpful tips regarding online safety
---
Helpful Videos

&nbsp

You're not alone, check out some real-life storiesfrom teens who struggled with some of the issues discussed above.
---
Make a Difference

&nbsp

Don't just be a consumer of information, spread your knowledge, be an Advocate for internet education. For helpful information, click hereto download the Teen Volunteer Kit provided by Netsmartz.org.